ACCREDITED ONLINE HIGH SCHOOL DIPLOMA PROGRAM
As a private accredited online high school, SVHS awards high school diplomas. Students of all ages, from all geographies are welcome to register in our high school diploma program at any time.  Teenage students can transfer in to SVHS after completing middle school or from an existing high school. Adult students can register with us to complete their high school diploma at any age.
Unlike most high schools, our classes are all online, all our administrators and support staff are online and there's no need to visit a physical classroom.
Open to Everyone, Everywhere
Although your diploma will be granted from SVHS, an accredited online high school, it's not necessary for our students to live in Nevada, or ever have to visit Nevada.  Our courses are open to everyone, everywhere. You do not need to be a U.S. citizen in order to earn your high school diploma from SVHS. You can register and earn a high school diploma from anywhere in the world. More information for international (non-US) students is available here.
Our mission is to provide quality, personalized, affordable and ever-improving educational paths for all students to pursue their ambitions.
As the Internet develops as the world's largest library of quality educational content, we see students increasingly taking their high school classes online. With quality, compelling online courses available at reasonable cost, high school will grow more accessible, more relevant, more interesting and more adaptive to the needs of the individual student.

• Critical Thinkers– SVHS graduates are independent thinkers who are able to critically analyze information and make informed decisions.
• Independent Learners– SVHS graduates are able to overcome obstacles and recognize the need to continue growth through perseverance by utilizing available resources and advocating for themselves.
• Global Citizens– SVHS graduates are effective communicators who are able to express thoughts and articulate ideas, are responsible digital citizens, and have a high level of competence for engaging with technology for a variety of purposes.
• Academic Achievement– SVHS graduates are able to formulate a plan for further inquiry and exploration of ideas in a variety of fields and areas of interest, and apply transferable skills that support future success in college and careers.
SVHS is accredited by AdvancED, the largest community of education professionals in the world. AdvancED is the trusted partner to 34,000 educational institutions—employing more than four million educators and enrolling more than 20 million students—across the United States and 70 other nations. 
AdvancED was established in 2006 when the Board of Directors of the Southern Association of Colleges and Schools, Council on Accreditation and School Improvement (SACS CASI) and the Board of Trustees of the North Central Association Commission on Accreditation and School Improvement (NCA CASI) made a unanimous decision to unify their respective organizations. The National Study of School Evaluation (NSSE) also joined the unification. In 2012, the Northwest Accreditation Commission (NWAC) joined AdvancED as the third accreditation division.
In 2018, Silicon Valley High School was approved by NCAA, the National Collegiate Athletic Association.
In 2020, Silicon Valley High School was accredited by the Western Association of Schools and Colleges (WASC).
Many students prefer watching videos to reading textbooks and we use video wherever we can in our courses.  Where they're available, we select videos that are fun to watch and keep students entertained.  If you're taking a course like English, you're going to have to read a book, but each unit of each course usually includes a video, a quiz, some reading material, and an assignment.  We do try to make the assignments as well as the videos as interesting and entertaining as possible.
Because our courses are all self-paced, it means you can study on your own schedule. We've been somewhat surprised that, given the freedom to set their own schedule, students choose to study at all hours of the day or night. Some students are night owls and others are early birds.  They certainly don't all work traditional school hours.  
All our courses are supported by experienced, credentialed teachers who answer questions, grade assignments and provide guidance and feedback online. When you enroll in a course, you'll get a message from your teacher. Your teacher is not a bot or some artificial intelligence machine—it's a real-life person, a credentialed teacher, who, like you is working on a computer.  You can ask a question at any time, by submitting an online form. The teacher receives an email with your question and responds quickly, usually within 24 hours (can take longer at weekends and holidays). 
When you submit your assignment, it is graded by the teacher. Together with your grade, the teacher gives you some positive feedback and guidance.
With this arrangement, it's not necessary to be online at the same time as the teacher, and that's how we can make our courses entirely self-paced.  Having said that, for some language courses, like Spanish, where you occasionally have to actually speak to a teacher through video-conference, you'll need to coordinate your schedule with the teachers'—to make sure you're both able to meet up online.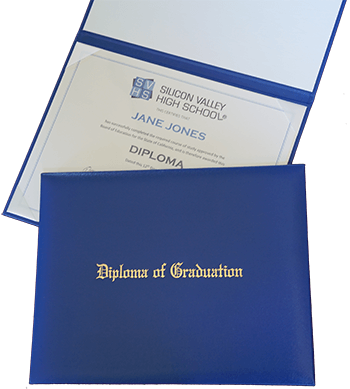 $250 Registration fee, $1,500 a Semester and $300 Graduation Fee
Through automation and efficiency, you'll see that we slashed the cost of private high school education without compromising on quality. There's a Registration Fee of $250, which covers the cost of processing the application to join our diploma program, as well as reviewing student education and transcript history, then there's the $1,500 per semester tuition fees (for each of the spring and fall semesters), and finally, the graduation fee is $300, which covers the cost of verifying that you have completed all the required courses and completing the graduation process. 
Adult students are free to register and take courses on a part-time basis, however, students aged 18 or under, are required by law to attend school full-time, which means taking and passing a certain number of courses each semester.
You Can Accelerate Through to High School Graduation
A minimum of 230 credits are required to earn a diploma. The maximum number of courses you can take in a semester is 8, and you can take 2 semesters each year, plus 8 supplemental courses in the summer break, so that means if you really (really) wanted to complete your high school education quickly you could take 24 courses, or 120 units in a calendar year.  You could graduate and earn your high school diploma very quickly at that rate.
Note: Our high school diploma is only available to students currently registered and enrolled in the diploma program and we can only graduate students who have taken at least 25% of their courses with SVHS.
Registration Windows for Fall and Spring Semesters
The registration window opens in June for the Fall semester and in December for the Spring semester. Registration is closed once the semester has started.  Please contact our customer service team through the Chat box at the bottom of this page, or through the Contact Us page to get on the wait list for the next semester. 
Full-Time/Diploma Students: School Calendar
The dates for each semester are as follows:
Fall Semester: August 15 to January 14
Spring Semester: January 15 to June 14
We Accept Credits from other Schools
We will accept qualifying credits from other schools or colleges in the United States for courses matching those in our curriculum, but as an accredited online high school, you must complete at least 25% of your courses with SVHS to earn your diploma from SVHS.
If you're an adult looking to get your high school diploma, that's fine by us.  We will accept your credits earned from your previous accredited high schools. It doesn't concern us whether you're 17 or 70 years old. However, the minimum age for admission to our diploma program is 13 years of age. 
An online high school diploma program is not for everyone, and places in this program are limited.  Online self-paced education suits students who are self-starters, able to manage their own calendars and capable of putting in the work necessary to pass the courses working on their own time.  Many students perform better in a traditional face-to-face classroom setting. If you think your student is capable of working independently and succeeding in an online environment, please Contact Us here providing the name of the student, the grade, and contact details.  You will be asked to provide the students' unofficial transcripts showing the results he/she has achieved to date and pay the registration fee. 
Our academic advisor will review the transcript materials you provide. If it appears your student might be an independent learner, the student will be invited to take our diploma application course, which gathers the information we need to assess if this program will be a good fit.
Contact Us with the student's name, contact information, and tell us you are interested in the full-time diploma program.
We will then request the student's transcripts to date.
The student may be invited to take our online diploma application course.
Students will be enrolled following the successful completion of the diploma application course and selection by our admissions team.
The process takes around one week and must be completed within 2 weeks.
Additional information is available for adult students and international students.

College Board Code:  290023
NCAA High School Code: 851733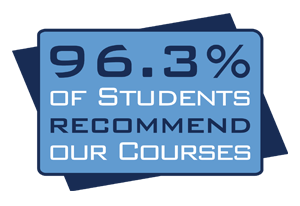 University of California, A-G Approved Course List