HOW TO ENROLL IN A COURSE
Sign Up and Start your Course in Minutes
Enrollment involves 3 simple steps:
Create your SVHS account here. If you already have an account, login.
Select your course.
Pay for your course with Paypal.
Note: with the username and password you define when creating your account, you can log in and access your course materials wherever you have an Internet connection.
Note: see instructions below near the bottom of this page if you wish to enroll with a purchase order number.
1) Create Your SVHS Account
Click here to visit the page where you create your account. You will need to select a username, password, and provide your email address along with some additional information.
2) Select Your Course
After you login to your user account, access the "Course Catalog" tab from the menu bar that you will see at the top of the page when logged in on the backend of our website.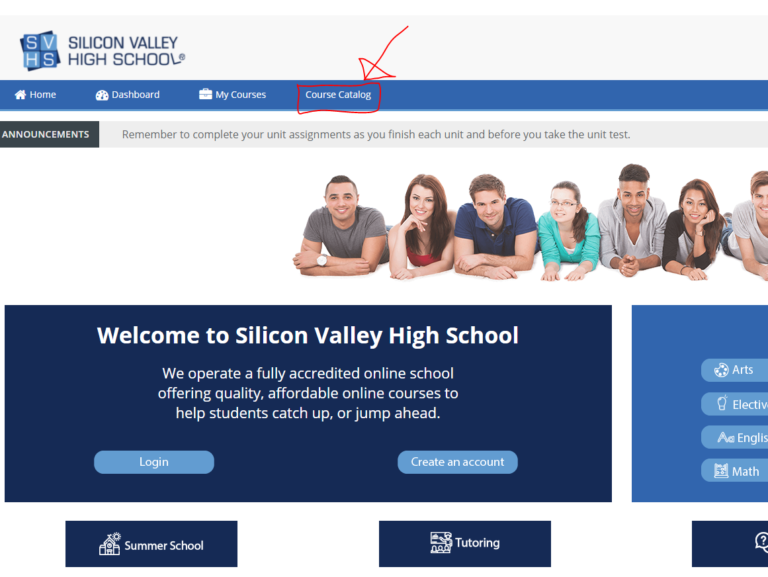 3) Pay with Paypal
After selecting your course, click on the button  "Send Payment via Paypal". Please keep in mind that you don't need a PayPal account to pay for the course, you can check out as a guest on PayPal with a credit or debit card by using this same button.
*BELOW IS AN EXAMPLE OF WHAT THE PAYPAL BUTTON LOOKS LIKE. YOU WILL FIND THE ACTUAL FUNCTIONING BUTTON TO PURCHASE YOUR COURSE FROM OUR COURSE CATALOG WHEN YOU ARE LOGGED IN ON OUR SITE.*

*IF YOU ARE ON THIS PAGE, YOU ARE STILL ON THE FRONT END OF OUR WEBSITE AND NEED VISIT THE COURSE CATALOG ON THE BACK END OF THE SITE.*
*PLEASE CLICK THE LOGIN TAB IN THE MENU ABOVE TO NAVIGATE BACK TO THE LEARNING MANAGEMENT SYSTEM SIDE OF OUR WEBSITE AND THEN CLICK THE "COURSE CATALOG" TAB FROM THE MENU OPTIONS AT THE TOP OF THE NEXT PAGE.*
*YOUR BROWSER BAR URL SHOULD BEGIN WITH LMS.SVHS.CO WHEN YOU ARE ON THE LEARNING MANAGEMENT SIDE OF OUR WEBSITE*
That's it. You're now enrolled and have access to the course of your choice! 
Enrollment With Invoice or Purchase Order ("P.O.")
If you are not paying for the course yourself and you have a purchase order from your school or institution or need to request an invoice, follow steps 1) and 2) above, then click the link in the page to request manual enrollment in the course. We will enroll you in the course as soon as possible, but it may take a little time to check the purchase order and complete the enrollment process.
Contact Us
If you have questions, or would like further information, contact our support team who will be happy to help you through the enrollment process. Use the chat box that pops up at the bottom of the page or the Contact Us page.