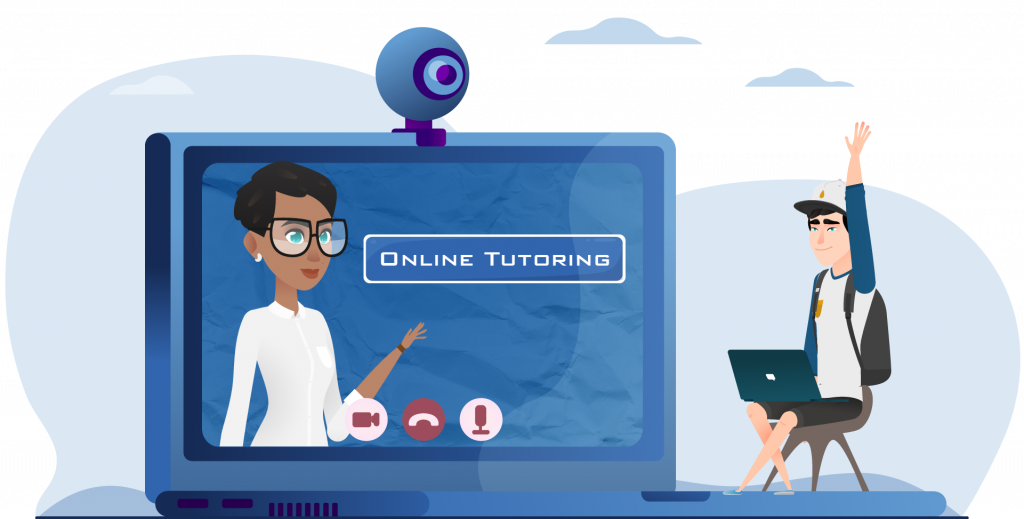 Our credentialed, experienced teachers are now available for tutoring online. Priced at $35 each, tutoring sessions are 30 minutes long and take place through the Zoom videoconferencing system.
Booking a session couldn't be easier. You simply click on the calendar for the teacher and select a time slot. Then you pay through PayPal (with credit card if you wish), and the session is booked.
SVHS is an accredited school and our tutors are real teachers with a wealth of experience.  They're also passionate about helping students achieve their full potential. 
Credentialed teachers

—with insights into what your teacher is looking for.

Affordable—at just $35 for 30 minutes.
Easily accessible

—takes only seconds to book online.

Book sessions individually

—no long-term commitments.

Personalized—one-to-one sessions.
Book a Tutoring Session Now
Simply select the teacher and book the session. You will receive email confirmation, and the session will automatically be booked in the teacher's calendar. The Zoom videoconference link will be provided in the email confirmation (and in your calendar event if you have an online calendar attached to your email account). 
If you'd like to book a number of recurring sessions, our customer service staff will be happy to help you with that.
Derek Postlewaite—English and Social Sciences: World History, US History, Economics, American Government, & Money Math
Derek is a social studies teacher who has taught online since 2012. He graduated with a Master of Arts in Teaching Social Studies at the Secondary Level from California University of Pennsylvania in the spring of that same year, and since then he has created, modified and administered multiple online courses within the social studies discipline. He taught Civics & Economics and US History for two years in Virginia, and is also certified in English, as well as English as a Second Language, and has worked with several districts in the Pittsburgh area as a itinerant ESL teacher, arriving at multiple schools daily to serve the needs of English language learners. In addition, he is experienced in tutoring, assessment writing and evaluating the lessons of other educators.
Jeff is here to make mathematics more clear for you, so that you will learn the topic you are studying. No mathematics question is too small; such questions allow mathematics learning to occur. The utilization of the computer as a tool for helping to learn mathematics has always been an area of focus for Jeff. He hold an MS in Mathematics, Cleveland State University, Mathematics Teaching License (7-12), Ashland University, and BS in Applied Mathematics, Cleveland State University.
Jennifer is a high school math teacher with 8 years of teaching experience. She graduated from Northeastern University with a Bachelor of Science degree in Civil Engineering and worked as a structural engineer before switching careers to teach math. Her specific areas of expertise include Algebra, Trigonometry, and Pre-Calculus. Jennifer shares her home with her twin daughters and two rescue dogs, and in her free time she enjoys the outdoors, running, gardening, and spending time with family and friends.
Lawrence Decamora—Programming
Lawrence teaches Java and other open source programming languages.  He has been a university instructor for 20 years while working with various industries, both in the public and in the private sectors as an IT Consultant. He also worked for 5 years as a Java trainer for Sun Microsystems, the original creators of the Java Technology.  He has authored a book on Java and designed various courses and curricula around this technology. Lawrence is an Oracle Certified Java Programmer and a Sun Certified Java Programmer. He holds a Bachelors Degree in Computer Science, a Masters Degree in Education and is currently pursuing a Doctoral Degree in Education Management.
Dawn Gilmore—Science: Biology & Chemistry
Dawn is a high school chemistry teacher with 14 years of teaching experience in both chemistry and biology. She graduated from Indiana University with a degree in biology and a minor in chemistry. Dawn worked as a chemist before earning her master's degree from Indiana University and transitioning to teaching high school science. Dawn is able to take difficult topics and break them down into simpler topics. Over the years of teaching and tutoring, she has developed strategies to help her students find success and develop confidence. She has a passion for science and teaching and uses it to inspire and encourage her students. When she is not teaching or tutoring she enjoys spending time with her husband and two teenage daughters.
Suzanne has more than 20 years teaching Spanish at the high school and elementary levels, She received her Bachelor's Degree in Spanish at Humboldt State University in Arcata, CA and her single subject Spanish Credential from Sonoma State University. She also studied in Oaxaca, Mexico where she taught English. Suzanne has worked as a high school Spanish teacher in Sonoma County for 16 years and has received extensive training in curriculum design and assessment. She is passionate about teaching language and culture and has traveled extensively throughout Latin America and Spain.
"It has flexible hours and it is taylored to our needs. All materials were excellent, especially the videos provided by Silicon Valley High School. Easy to understand. .. I liked this course better than studying in a classroom with others students. .. I liked that I could do everything individually without distraction from my classmates. .. I would like to do classes like this in college."
"The course is much better online than what I experienced in a class setting. I learned more and quicker working on the class online everyday versus in a classroom setting."
"It had just the right amount of lecture, quizzes, tests, and essays and assignments. Not too overwhelming or easy, right amount to really learn and challenge in essays and assignments. Time management-wise the course worked well with all the other high school coursework and load student already has."
"Silicon Valley High School has been the perfect online resource for my home-schooled high school student. The SVHS.co online courses are easily accessible and easy to understand. SVHS.co has allowed my son complete flexibility with his schedule and even more importantly the ability to move at his own pace. I particularly appreciate how the program breaks down the material into bite size chunks, making the material less intimidating and more manageable. This allows him a stress free way to stay with a topic until he feels he has mastered it, before moving on to the testing portion of the program. This program has made home schooling through high school a true possibility for us. I highly recommend you give it a try!"
"I love your use of videos!! So much easier to stay engaged. Great way to appeal to younger demographic! .. I would definitely recommend SVHS. It's simple enough to navigate, the amount of work isn't overwhelming and we actually get feedback from our exams. I love writing so this has helped me greatly!"
"I would recommend this to a friend because this program is very informative and has excellent service. .. I would not improve anything. .. I love how the teacher help works with individuals. .. I love this program." (Course: English 10 Pt 2)
"I very much enjoyed using SVHS. It was extremely user friendly and has lots of useful classes that provide you with school credit."
"..I want to express my gratitude to you for providing my son an educational experience where he is able to find success! You may remember, (my son) was falling out of high school and headed for the alternative school before we made the change to SVHS. What a life changing experience this has been. Not only is he getting As and Bs (which he NEVER has received) he's also so much happier. Everyone has noticed the positive difference in (my son). I am so grateful for the education you are providing my son. Many, many thanks to your school and teachers!!!"
"..he is enjoying the course (as much as a 15yr old can enjoy a math course) and likes the format. Thanks again for your help and patience!"
"I recommend the course because you really learn the material and it can be at your own pace. By offering this course it allowed me to travel and expand my experiences in many ways not just school."
"I would recommend SVHS to a friend because it does a good job of covering the material and making sure you understand it. The videos were really helpful and well chosen. They really helped me remember the material and were good about explaining it.I liked that I was able to communicate easily with the teacher. She answered my questions in a reasonable amount of time."
Why would you recommend SVHS to a friend? "It allows you to be very flexible and it teaches you the subject really well. I like the combination of videos and articles that it gives."
I would recommend SVHS to a friend because the course gives a lot of helpful information, and all the videos that are provided make sense and are easy to understand. The assignments are also very involving and fun! I also really like the teachers, and they make it easy to want to communicate with them.
"Whenever I needed something, I emailed one of the staff members to help me. They even made some changes to the class to help make it adjusted for the style of learning I enjoy. The staff members are always so quick to respond to the emails and help I needed. They obviously wanted me to do my best and enjoy the class as much as I could."
.. And I am very impressed with the course and its straightforward focus on assignments that emphasize learning, thinking, and interpreting. (I am a former college professor.)
"I want to thank you for the support svhs has given our students. I remember when you first reached out to explain what svhs was all about and to be perfectly honest, I was somewhat skeptical. But about 2 years later, many of our students have taken advantage of the courses offered by svhs and have been quite successful. Thank you,"
"I already did! 🙂 (recommend SVHS to a friend) It was a different way to learn; I like new ways to learn new material. It was also very fun! .. I really liked everything. I liked how it was set up, what they covered, all the videos, etc. 🙂 .. The service was awesome! You guys were on top of it. 🙂 I loved my teacher and the staff helping her. All were very kind and helpful. Thank you for answering all my questions and requests! .. I loved everything about the course! Everything was great; I had all the help I needed. .. I wanted to thank my teacher who answered my questions about assignments; she was very kind."
"I loved how quickly the teachers and people in the chat were able to assist me and answer any questions I had"
"I love SVHS, by the way, and refer your courses to all of my high schoolers! The class format is so straightforward and the content is very accessible for all students. The classes have met the needs of my college prep students, those with 504 plans, and students with IEPs and disabilities! They all have enjoyed the course content. Thanks for all you do!"
Why would you recommend SVHS to a friend? "It was easy to pass as long as I did the work, as school should be. The material was even interesting."
"SVHS provided me a chance to get ahead of my high school math level while still being able to take a brief respite whenever I wanted during my summer break; I would definitely recommend this to anyone who is dedicated in advancing in any subject or chooses to be home-schooled."
"Thank you. (Daughter) has thoroughly enjoyed this course. Wish there was another one!"
"I would absolutely recommend SVHS to my friends, as I found that this course was challenging and pushing me to work hard, but it also could be completed in a reasonable amount of time."
Why would you recommend SVHS to a friend? "The flexibility of time and the fact that the entire course is online makes it easy to fit taking this course into a busy schedule."
"The lessons are good and get strait to point. There is no time wasting like there would be in class."
"It was really good to be able to go fast with easy topics and go slower with more challenging material. For quizzes you can retake them and understand what you did wrong and you can review all of them as many times as you want. This is helpful for studying for the final and unit tests."
"It was a great course! The set up was great and it was very easy to fix mistakes. I loved my teacher! She was very helpful and nice."
"It was a good option for those who better learn at their own place, whether that's faster our slower than a typical classroom."
"The prices for the classes I wanted to take were unbelievably low and much more affordable than ANY other online school on the web. The class was very organized and well lay out. It was really nice being able to move at my own pace and finish however much I wanted to each day."
Please provide your overall rating of the course: "Excellent" "I actually learned a lot because I could retake the quizzes as many times as I wanted."
"I enjoyed the pacing of the videos displayed and the overall helpfulness of the videos and written worksheets. I also enjoyed the projects whether it was sketching your family or recording yourself speak Spanish."
"I would recommend because this course is really helpful to me and I learned a lot from it. I liked the method of watching videos and then taking a quiz."
"I would recommend this course (Eng 11, Pt1) because it covers every topic and gives you multiple options on how to study although is recommended to use all of the sources. This course is challenging enough to learn but not too challenging to be overwhelming."
"Its an excellent step by step course. Had lots of fun learning. Thank you so much."
"I would recommend SVHS to my friends because it is a great way to catch you up or get you ahead with your classes. It is convenient and very easy to follow. It is great"
"Extensive Coverage of Materials, Many Resources, Well Organized. Thank you for offering the course! I thoroughly enjoyed the class, teaching style and getting to meet the teacher. Thank you again!"
"I would recommend this to a friend as it is easy to understand and thoroughly covers the subject. .. I like how you could learn at your own pace."
I would recommend SVHS because: "It does not overcomplicate things and allows room for improvement because you can retake the quizzes"
"The course covered a lot of material in each lesson, so I was able to pretty quickly learn a lot of the basics of Java, and logic as well. The material in the lessons repeated each concept a few times, so I was able to get a good grasp of it. I feel like the course prepared me well in getting to know Java and start on the more advanced topics - I learned a lot from the material. The teacher was also quick to respond and gave helpful comments."
"I would recommend SVHS to a friend. The completely-online format was very convenient, and I liked that I could self-pace with the material."
"I didn't find anything wrong with this course for improvement. ..I would recommend this course to a friend because it allowed me to work at my own pace to gain a better knowledge of the material that was being taught throughout the subject."
"The learning style is good and it is quick to finish each lesson. Lessons also get to the point."
"The course instructor was very intelligent, responsive, and provided useful individualized feedback. I am satisfied with the quality attention provided and the time I received from the particular instructor. ..I liked the clean webpage templates (white, blue, information, and clean space); it was comfortable/friendly to view/navigate the webpages."
"Helpful, easy website to navigate. I liked how your progress was easy to see, also the clear directions were nice."
"I would recommend this course to someone else since its very easy to follow at your own pace, plus i likes that theres a course timeline you can follow. I really liked the Unit assignments. At first I felt like some required too much reading, but after reading it, I did learn a lot, which was fun for me. Even though history is my least favorite subject, in the end I really enjoyed the assignments."
"I would recommend SVHS to a friend because the teachers are excellent and the material is incredible for learning purposes."
"I thought everything was very clear and easy going for me to understand what was being taught. I enjoyed having multiple videos by different professors to learn the lesson in various ways. ..I enjoyed that we were allowed to take the quizzes as many times to get our highest scores because where I struggled I was able to get more practice by retaking them multiply times so that I was confident in taking the unit tests. ..This was an amazing experience I look forward to taking more classes here in the future if needed."
"It was excellent because it allowed for mastery and to take quizzes over and over in order to learn."
"I would recommend SVHS to a friend because I thought that the Assignments were graded quickly and taking the course was efficient. I liked that when I asked a question, it would get taken care of for me."
"My impression is that the independent selection of videos and readings (in this particular course) were much more helpful than a standardized textbook; the delivery method allowed the subject to be covered from several different perspectives that either reinforced the subject matter or allowed for the concepts to be introduced in a different light (if it was confusing initially)."
"The course was straightforward, not incredibly complicated, user-friendly, and fun to complete. I liked that I could complete everything completely at my own pace and that assignments were graded quickly."
"I loved how each teacher is very supportive and how I am able to practice for each test." "The material covered in this course is amazing because it supports each student with videos and information text to understand the course better."
"Assignments were graded promptly with good feedback, and they were meaningful and interesting to complete."
"The teachers are nice along with great staff and they get back with answers to our questions in less than 24 hrs. I liked how they gave us multiple tries for quizzes. It helped a lot."
"I would recommend SVHS to a friend because of it\'s quality of teaching, and being able to take the class at your own pace. I enjoyed how easy the website was made."
"I would recommend because it it fun and easy to learn. I liked how there were multiple videos to teach you about the subject before the quiz."
"I would recommend SVHS to a friend; competitive price, ease of access, friendly class schedule, ability to absorb the subject matter as presented to the student (not just a class or grade, but absorb the educational material), responsive instructor, and overall positive experience."
"I would recommend this course to a friend because this class (English 12 Part 2) really makes you think deeply about the relevancy of literature. Silicon Valley is an amazing self-paced course and I totally recommend it."
"It is easy to keep up with and if you don't understand a topic you can easily go back to guarantee you get it. Also: I liked the ability to retake the quizzes as many times as needed."
"I would recommend it because it was so helpful to be on-demand and at your own pace, as well as being very simple to operate.. ..I loved being able to retake the quizzes because that was when I learned the most by trial and error and learning from my mistakes to do better on the unit tests."
"The course covered everything and it is not too expensive, so it is good for homeschooling."
"I would recommend SVHS to a friend because it is easy to work with and it is very simple. You can go at your own pace and the videos make the course more enjoyable."
"I appreciated having videos that I could watch before every quiz and being able to replay them if I misunderstood something. I also liked being able to retake the quizzes, as it allowed me to go back and figure out what I had done wrong, therefore I could more thoroughly understand the subject."
"Thank you so much! i love this high school you guys provide the best classes, and even though i was behind it was so easy to catch up."
"The course (Economics) was definitely a lot of work, even more than I would have in a class at my school, but I learned more than I have in any class I've taken in high school and for that reason I would recommend it."
"I'd recommend this course/SVHS to a friend due to how structured and simple the system is. SVHS mimics exactly how a semester in school would be for a single class. Closest you can get to being like school when at your home.. Helpful articles and videos were great in each lesson."
"SVHS course content was perfect. The course content was easy to follow and presented in a way that was very easy to understand. The teacher was very cooperative and helpful! The assignments and tests were very challenging. Overall, it was great. Thank You!"
"I would recommend SVHS to a friend because of how clear and in-depth the online courses are including the various assignments, research material, and class instructions. I also think that SVHS provides a positive learning experience because the teachers give the students constructive feedback and let them know if they are on track or not."
"I would recommend SVHS to a friend because the courses are well-formatted and everything is well-explained. Additionally, you can move at your own pace which is great because it enables a flexible schedule for the student."
"It was very manageable to balance with other work, and the resources provided really made sure I was actually learning something instead of just trying to make up credit!"