DIPLOMA PROGRAM - ADULT STUDENTS
As an accredited high school, SVHS has the mandate to grant a high school diploma online to qualifying students. We welcome adult students looking to complete their high school diploma online.
Open to Everyone, Everywhere. All the Time
Our courses are self-paced, and they're available around the clock, so you can take courses with SVHS from any time zone, at any time of day (or night).
Continuous Enrollment Policy/Requirement
Adult students may enroll as a full-time student, or enroll part-time.  You pay for each class as you enroll.  You may take as few or as many classes as you want each semester, up to 40 credits (4 Carnegie units / 8 courses).  However, you must be working on at least two courses (10 credits) and complete at least 1 course (5 credits) each semester to be considered continuously enrolled in the adult program. If you don't earn any credits in a semester, you will be dropped from the program. To restart, you would need to pay the registration fee again.  We would encourage you to earn at least 15 to 20 credits a semester; obviously, doing more would be better. When you have earned the required number of credits, we graduate you.
Adult students are not charged the $1500 semester tuition fee. We charge a registration fee ($250) and a graduation fee ($300), which all students have to pay. Adult students pay for their individual courses ($125) each.  You can enroll in up to 8 classes per semester, but we suggest starting with fewer until you see how the courses work for you. Students in the adult diploma program should work with the SVHS academic advising staff to create a plan for course completion.
Academic Advising, Course Enrollment, & Teacher Support
Upon enrollment, you will need to provide transcripts of all high school classes taken at any previous schools for review by the Academic Advisor.  The Academic Advisor will create a graduation plan for you which outlines all courses required for graduation from SVHS.  You will then enroll in individual classes on your own through the SVHS portal.
You can take up to one year to complete a course, just make sure you are working on at least 2 classes (10 credits) per semester and complete at least 5 credits every semester to stay enrolled. Because you are working at your own pace, if you finish a class before the end of the semester you are welcome to register for part 2 or another class. 
Adult students are not assigned a Supervising Teacher to monitor their progress.  However, each course has teachers available to answer questions about the course content and assignments by accessing the Ask a Teacher feature in each course. These course teachers also grade work and provide feedback on assignments. If you need help with a subject, you can use our online tutors.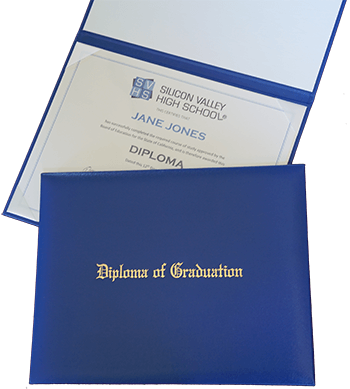 Incoming Credit Transfer Policy
SVHS will consider acceptance of credits earned from other accredited instructions. Students must submit official transcripts from previous schools upon registration. The SVHS team will the evaluate the transcripts and apply credits where appropriate.
Diploma Program Admissions Process
Online self-paced education suits students who are self-starters, able to manage their own calendars, and capable of putting in the work necessary to pass the courses working on their own time. If this type of school environment would be suitable, please Contact Us, providing the student's name and contact details. To be considered for the adult program, the student must be at least 18 years old. The student will then be asked to provide unofficial transcripts showing the results achieved to date. 
Our academic advisor will review the transcript materials provided and if it appears the student might be an independent learner, you will be invoiced for the registration fee of $250 and receive your graduation plan. Once you have your graduation plan, you are welcome to buy the courses from the SVHS website. The academic advisor can help you with course selection based on your individual goals and needs. Once enrolled in the diploma program, you must provide official transcripts from all previously attended high schools for transfer credit to be granted.
If you have questions or want to register for our adult program, reach out using the contact us form.