Price: $125 | Credits: One Semester | Dept: Social Studies | Course ID# 241-1
This course is the equivalent of the first semester of World History. This course examines major and significant events in the world between the years of 1750 and 1920, including, but not limited to: the legacy of Ancient Greece and Ancient Rome, the Protestant Reformation, the Enlightenment, the American and French Revolutions, Latin American Revolutions, the Industrial Revolution, 19th century imperialism and World War I.
World History is approved by the University of California A-G as a history/social science (category A).
Upon completion of this course, the student is awarded 5 credits. Each credit corresponds to 15 hours of study. Of course, some students work more quickly than others, and some can devote more hours to study, so some students are able to complete the course in an accelerated rate.
In this module, students gain a comprehension of the following:
How ideas associated with the Enlightenment developed and impacted civil society.
The consequences of trying to implement political revolutionary ideas in Europe, Latin America and North America.
How industrial revolutions affected governments, countries and national identity in similar and different ways.
The Age of Enlightenment and Imperialism, including the Industrial Revolution, European imperialism, the Revolutions of 1848, the colonization of Africa and southeast Asia, the Latin American revolution, and the Modernization of Japan.
How agreements dating from WWI and post-war periods impacted the map of the Middle East.
This course covers the following topics:
Development of Western Political Thought – the World in 1750
1750-1917: Revolutions Reshape the World Part 1 – Democratic Revolutions
1750-1917: Revolutions Reshape the World Part 2 – Industrial Revolutions
The Rise of Imperialism and Colonialism
World War I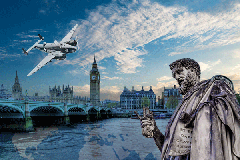 • One Semester Credit: $125
• First Semester of World History