Price: $125 | Credits: One Semester | Dept: Social Studies | Course ID# 240-1
This is the first course in a sequence and is the equivalent of the first semester of US History. The course examines major and significant events in U.S. history between 1754 and 1900, including, but not limited to: the Enlightenment's influence on the American Revolutionary Era, the American Revolution, the early years of the new republic, the Age of Jefferson, the Age of Jackson and Indian removal, westward expansion, the Civil War, Reconstruction, the Gilded Age and the Progressive Era.U.S. History is approved by the University of California A-G as a history/social science (category A). Upon completion of this course, the student is awarded 5 credits. Each credit corresponds to 15 hours of study. Of course, some students work more quickly than others, and some can devote more hours to study, so some students are able to complete the course in an accelerated rate.
In this module, students gain a comprehension of the following:
How the ideas of the Enlightenment shaped the foundation of American Democracy.
The French and Indian war, and the events that led up to the American Revolution.
The Constitution, the Articles of Confederation, and Federalism.
How the United States greatly expanded its boundaries through settlement and war during the mid-1800s.
The Age of Jefferson, Jackson and the events that led up to the Civil War.
The start and end of the Civil War. The start and end of the Civil War
The developments, problems, and changes during America's Gilded Age.
This course covers the following topics:
Road to Independence and the Early Republic 1754-1801
Age of Jefferson and Pre-Civil War Years 1801-1861
The Civil War and Reconstruction 1861-1877
The Progressive Era 1870-1900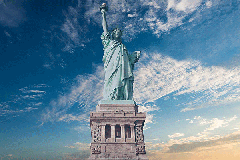 • One Semester Credit: $125
• First Semester of US History