Price: $125 | Credits: One Semester | Department: Languages | Course ID# 253-1
This course is the first semester of Spanish 3 and builds on the foundations of Spanish 1 and 2. The vocabulary covered in Spanish 3 will be more sophisticated and reviewed in more depth.  The focus is to build reading, writing, listening and speaking skills. Students will also learn more about the culture of the Spanish speaking world. Students are required to attend a video conference call with the teacher for one of their unit assignments. This allows teachers to provide students with feedback on their spoken Spanish. Spanish 3 is approved by the University of California A-G as a language other than English (category E).
Upon completion of this course, the student is awarded 5 credits. Each credit corresponds to 15 hours of study. Of course, some students work more quickly than others, and some can devote more hours to study, so some students are able to complete the course in an accelerated rate.
In this module students will:
Expand on the vocabulary for the daily routine, household chores, the home, household items and family. They will review present tense regular, stem changers, irregular verbs, the uses of ser, estar and tener, as well as how to conjugate reflexive verbs.
Review the body parts, practice vocabulary for illness and injuries and learn vocabulary for nutrition and exercise. They will use comparative and superlative adjectives and prepositions of place.
Learn about festivals, holidays and celebrations in Spain and Latin America, as well as discuss important life events. They revisit preterite verbs, the imperfect tense and the rules for using the two past tenses; Pretérito y Imperfecto.
Advance their vocabulary for nature, camping and other outdoor activities. They will also review direct and indirect object pronouns, double object pronouns and formal and informal commands.
Learn the vocabulary for the world of work, learn how to form the future and conditional tenses and practice using por and para.
This course covers the following topics:
La Vida Cotidiana
La Salud
Celebraciones, Fiestas y Eventos de la Vida
La Naturaleza
El Mundo del Trabajo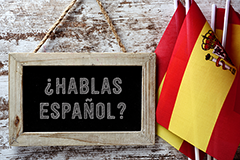 • One Semester Credit: $125
• First Semester of Spanish 3