AMERICAN SIGN LANGUAGE 1, PART 2
Price: $125 | Credits: One Semester | Dept: Languages | Course ID# 254-2
This course is the second semester of American Sign Language (ASL) 1. This is an introductory course designed for students with little or no previous study of ASL.  This course teaches basic conversation, grammar, and vocabulary.  The focus is on expressive and receptive American Sign Language, fingerspelling,  and the culture of the Deaf community.  Each unit will cover vocabulary related to a specific theme (sports, home and neighborhood, friends and family, routines, school and classes) and grammar concepts appropriate to level 1.  As students progress through each unit, they will build upon previously learned material and be given opportunities to strengthen their use of their expressive and receptive language skills. Students are required to attend a video conference call with the teacher for one of their unit assignments. This allows teachers to provide students with feedback on their signing skills. ASL 1 is approved by the University of California A-G as a language other than English (category E).
Upon completion of this course, the student is awarded 5 credits. Each credit corresponds to 15 hours of study. Of course, some students work more quickly than others, and some can devote more hours to study, so some students are able to complete the course in an accelerated rate.
In this module, students gain a comprehension of the following:
Learn signs related to sports and leisure, including keeping score and using large numbers. 
Learn to use Semantic Classifiers and express opinion. 
Learn to "think in ASL" and avoid making confusing sign choices.
Understand how to use Locative Classifiers to show where things are.
Learn how to describe a neighborhood, a house, and a room.
Understand and practice using the Signer's Perspective.
Understand how to use Rhetorical Questions while talking about family, relationships, life events, and pets. 
Learn how to talk about chores, errands, and routines. 
Understand and use Temporal Inflection – to show that things happen repeatedly or continually.
Learn signs related to school, classrooms, classes, as well as career and college goals.
This course covers the following topics:
Sports and leisure.
Where do you live?
Family and friends.
Routines.
School and classes.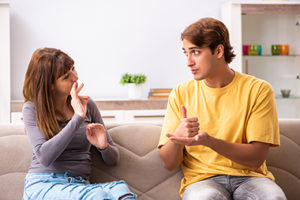 • One Semester Credit: $125
• Second Semester of American Sign Language 1