Price: $125 | Credits: One Semester | Dept: English | Course ID# 209-2
This course is the second semester of 9th grade English and includes the topics of analyzing literature, writing 5 paragraph essays, planning, writing, and editing, informative writing, narrative writing, as well as examining different forms of literature. English 9 is approved by the University of California A-G as English (category B). Upon completion of this course, the student is awarded 5 credits. Each credit corresponds to 15 hours of study. Of course, some students work more quickly than others, and some can devote more hours to study, so some students are able to complete the course in an accelerated rate.
In this module, students gain a comprehension of the following:
How to analyze an audience in literature, and how to write a literary analysis paper.
The process of planning, writing, and editing, with a focus on the paragraph and the overall essay format.
To recognize informational writing and to annotate non-fiction articles and speeches.
To construct a letter of complaint, with a focus on yielding desired outcomes.
To recognize and understand narrative journalism and narrative writing.
To create a brief biography for the purposes of pursuing a job or entry to a school.
The ability to analyze and understand different forms of literature, to transform source material, and to recognize and appreciate Ekphrasis.
This course covers the following topics:
How to Approach Literature – SOAPS Strategy
Analyzing the Audience in Literature
Writing a Literary Analysis Paper
The 5 Paragraph Essay
The 40-20-40 Approach
Structuring a Strong Paragraph
How to Revise
Elements of Informational Writing
How to Annotate Non-Fiction Articles
The Letter of Complaint
Narrative Journalism
Elements of Narrative Writing
Journaling
Writing a Brief Biography For a Job, etc.
Transforming Source Material
Ekphrasis
Types of Literature – Defined
Assigned books – William Golding- "The Lord of the Flies", and Jon Krakauer- "Into Thin Air".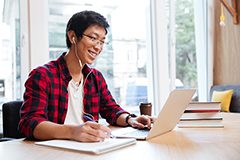 • One Semester Credit: $125
• Second Semester of English 9