Price: $125 | Credits: One Semester | Dept: English | Course ID# 209-1
This is the first semester of 9th grade English. Topics covered include literary elements, poetry and a writer's workshop. English 9 is approved by the University of California A-G as English (category B). Upon completion of this course, the student is awarded 5 credits. Each credit corresponds to 15 hours of study. Of course, some students work more quickly than others, and some can devote more hours to study, so some students are able to complete the course at an accelerated rate.
In this module, students gain a comprehension of the following:
An understanding of the basic elements of literature, including literary devices.

To examine the elements of a drama, character archetypes, and how character development can impact a plot and theme.

Draw evidence from literary or informational texts to support analysis, reflection, and research.

Analyze authorial choices as they apply to the use of language, diction, tone, and effect upon the audience.

How to write arguments using valid reasoning skills and sufficient evidence.

How to introduce a topic or thesis statement, organize complex ideas, concepts, and information to make important connections and distinctions.

Read and comprehend literature, including stories, graphic novels, dramas, and poems.
This course covers the following topics:
Basic Elements of Literature

Plot structure

Characterization and setting

Theme

Point of view

The graphic novel

Character archetypes

Identity – who am I and who are we

Literacy narrative

Writing claims

Logical reasoning

Choosing types of evidence

Commentary: analyzing evidence

Synthesizing information

Rebuttals and counterarguments

Poetry- types of verses and sound devices

Poet vs speaker

Types of imagery

The Sonnet

The role of language in Shakespeare

Figurative language

Types of irony

Dualities, juxtaposition, and foils

Short stories-

The Most Dangerous Game

,

The Cask of Amontillado

, and

Everyday Use

.

Assigned book – William Shakespeare-

Romeo and Juliet

, the Graphic Novel-

American Born Chinese

,

Show and Tell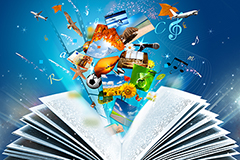 • One Semester Credit: $125
• First Semester of English 9