Price: $125 | Credits: One Semester | Dept: English | Course ID# 210-2
English 10, Part 2 is the second semester of 10th grade English and focuses on modern American literature.  English 10 is approved by the University of California A-G as English (category B).
Upon completion of this course, the student is awarded 5 credits. Each credit corresponds to 15 hours of study. Of course, some students work more quickly than others, and some can devote more hours to study, so some students are able to complete the course in an accelerated rate.
In this module, students gain a comprehension of the following:
Understand the socio-economic context of the modern coming-of-age novel (Bildungsroman).
Identify authorial choices in using forms of irony, an unreliable narrator, and socio-economic commentary.
Evaluate informational texts primary and secondary sources in terms of their value and limitations. 
Understand socio-economic (Marxist) literary criticism and evaluate its use in a novel.
Evaluate whether or not a narrator comes-of-age in a writing project.
Understand how visual and verbal texts contribute to visual rhetoric.
Identify authorial choices in political cartooning, propaganda posters, and graphic novels.
Evaluate the importance of Holocaust literature as an important historical, cultural, and literary genre.
Understand best practices in humanities and scientific research citation methods.
Evaluate whether a narrator is reliable or unreliable and how memory and trauma influence storytellers.
Analyze rhetorical elements using a mix of primary and secondary sources.
Consider the purpose of rhetoric and the roles of the speaker, audience, and textual conventions.
Understand an author's appeals to an audience to achieve a rhetorical purpose, mood, and tone.
Write an analysis paragraph that examines an author's choices, citing evidence as support. 
Differentiate between argument, persuasion, and propaganda.
Evaluate the credibility of sources in the media using digital literacy best practices.
Understand the importance of gender roles and communication in a drama of realism.
Understand how claims of fact, value, and policy impact argument and counter-argument.
Analyze the attitudes toward dreams and opportunity from a poet, an activist, and a playwright.
Consider the best practices in public speaking and motivating an audience to a "call to action."
Differentiate between two schemes of repetition: anaphor and parallel structure.
Create a PSA (Public Service Announcement), advocating a cause or change in policy.
This course covers the following topics:
The Coming-of-Age Novel
The Graphic Novel & Memoir
Rhetorical Choices
Argument & Persuasion
Social Issues: Dreams, Schemes, and Themes
Assigned books – J.D. Salinger- The Catcher in the Rye, Art Spiegelman, Maus Vol I: A Survivor's Tale
Plays – Susan Glaspell- Trifles, Lorraine Hansberry- A Raisin in the Sun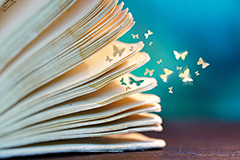 • One Semester Credit: $125
• Second Semester of English 10