Price: $125 | Credits: One Semester | Dept: English | Course ID# 210-2
English 10, Part 2 is the second semeser of 10th grade English and includes the topics of: genres and types of literature, writing narratives, identifying run on sentences and comma splices, writing summaries, paraphrasing, using in-text citations, sentence fragments, understanding rhetoric and the rhetorical analysis essay, writing persuasive essays, understanding reasoning and fallacies, compounds sentences, and the understanding of complex and other types of characters and characterization. English 10 is approved by the University of California A-G as English (category B). Upon completion of this course, the student is awarded 5 credits. Each credit corresponds to 15 hours of study. Of course, some students work more quickly than others, and some can devote more hours to study, so some students are able to complete the course in an accelerated rate.
In this module, students gain a comprehension of the following:
To be able to define a genre, identify the text structure being used.
How to write an effective narrative and how to avoid using run on sentences and comma splices
How to summarize, quote, paraphrase, use in-text citations, and to write an effective summary.
To identify and avoid fragment sentences
The ability to identify and describe rhetorical and persuasive language, as well as to write a rhetorical analysis essay and a persuasive essay
How to create simple, compound, and complex sentences.
To understand how writers use characterization to develop the different tupes of characters, including static, dynamic, and complex.
This course covers the following topics:
Defining a Genre
Text Structures
How to Write a Narrative
Run On Sentences & Comma Splices
Introduction to Summary Writing
Summarizing, Quoting, Paraphrasing
In-Text Citations
Summarizing Skills – Non-Fiction
Grammar Review – Sentence Fragments
What is Rhetoric.
How to Write a Rhetorial Analysis Essay
How to Write a Persuasive Essay
Grammar Review – Simple Sentences
Philosophical Reasoning
Introduction to Logical Fallacies
Common Logical Fallacies
Grammar Review – Compound Sentences
Characterization
Types of Characters
Complex Characters
Grammar Review – Complex Sentences
Assigned books – Ray Bradbury- "Fahrenheit 451", Alexandre Dumas- "The Count of Monte Cristo", and William Shakespeare- "Julius Caesar"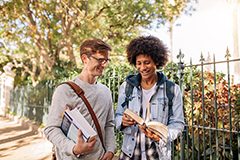 • One Semester Credit: $125
• Second Semester of English 10