Price: $125 | Credits: One Semester | Dept: Elective | Course ID# 277
This one-semester Ethnic Studies course will empower students through cultural understanding and social justice! The intent is to develop a growth mindset in which students assume positive intent in the complex information age. Ethnic Studies is approved by the University of California A-G as an Elective (category G).
Upon completion of this course, the student is awarded 5 credits. Each credit corresponds to 15 hours of study. Of course, some students work more quickly than others, and some can devote more hours to study, so some students are able to complete the course at an accelerated rate.
In this module, students will examine:
Metanarratives (single stories).
The impact of colonialism and settler culture.
The postcolonial effects of "spaces and places" in relation to how land and communities are managed as possible gatekeeping or segregated barriers to access and opportunity.
The self-perception and identity of black, Indigenous, and people of color (BIPOC) groups, topics of hybridity and mimicry within and across groups.
Discuss how marginalized cultures reclaim their history, identity, language, and culture.
Evaluate current and historical concepts of "otherness" and "anotherness."
Evaluate the legacy of segregation and the cycles of oppression and violence in at-risk communities in order to discuss ways to create healthy and safe places. 
The concept of social identity and belonging as they relate to invisibility, visibility, hypervisibility, hierarchy, equality, equity, and intersectionality.
Identify how interconnected social identities and institutional practices intersect to promote advantages and disadvantages. 
How communities are organized through segregation and redlining, and how each of these are undergoing changes from gerrymandering and gentrification. 
How cultural and aspirational values are fluid instead of fixed labels.
Debunk some geopolitical misconceptions of "Orientalism" and The Middle East, differentiating between activism and radicalism and political freedom versus restriction and repression. 
How marginalized and at-risk communities face violence, extremism, and social upheaval.
Discuss immigration and migration within countries.
Examine all forms of social justice issues that put communities at risk, like voting rights, criminal justice, economic justice, and environmental justice.
This course covers the following topics:
Introduction to Ethnic Studies
Reclaiming history, identity, language, and culture
Social identity and belonging
Globalism and conflict
Social Justice
Assigned Books – There There by Tommy Orange and A Different Mirror by Ronald Takaki. You will need to borrow these books from your local library or buy them. They are not included in the course.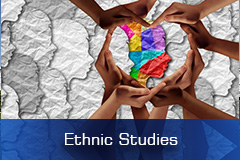 • One Semester Credit: $125