Price: $125 | Credits: 5 | Dept: Languages | Course ID# 252-1
This is the first semester in Spanish 2. Students will review and practice key concepts from Spanish 1, including present tense verbs, adjective noun agreement, the use of the verbs ser and estar (to be) and direct and indirect object pronouns. Students will also review preterite regular verbs and ser and ir (to be, to go) in the past tense. Topics covered include vocabulary in celebrations, health and medical, technology, the rooms in a house, the environment and nature, as well as commands, comparison words, and the past preterite. Spanish 2 is approved by the University of California A-G as a language other than English (category E).
Upon completion of this course, the student is awarded 5 credits. Each credit corresponds to 15 hours of study. Of course, some students work more quickly than others, and some can devote more hours to study, so some students are able to complete the course in an accelerated rate.
In this module, students gain a comprehension of the following:
The vocabuary for parties and celebrations as well as the irregular preterite tense.
How to use the present tense and past preterite tense.
The vocabulary for health; including parts of the body, symptoms and medical conditions.
Review reflexive verbs and verbs like gustar (to be pleasing) and learn how to talk about illness and injury using these types of verbs.
How to use the imperfect tense and have an introduction on the differences between the two past tenses, imperfect and preterite.
The vocabulary for technology; including home electronics, the internet, computers and cars.
Learn about adverbs, reciprocal reflexive verbs and the impersonal se.
Continue to learn and practice the two past tenses; imperfect and preterite and how to distinguish them.
The vocabulary for the home and household chores, as well as ordinal numbers.
How to form affirmative and negative familiar commands.
How to use familiar commands with pronouns.
The vocabulary for nature; including the environment, recycling and conservation.
Build upon prior knowledge of question words and learn the different uses for qué and cuál (what and which), relative pronouns and short and long form possessive adjectives.
This course covers the following topics:
Las fiestas y celebraciones (parties and celebrations).
¿Cómo te sientes? (How do you feel?)
La tecnología (technology)
En la casa (at home)
La naturaleza (nature)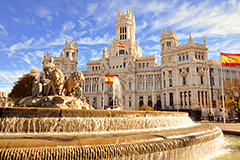 Course Details
5 Credits – $125
First semester of Spanish 2
Approvals: