Price: $125 | Credits: One Semester | Dept: Languages | Course ID# 252-2
This course is the second semester of Spanish 2. Students learn will learn many grammatical concepts such as: presente, preterite, imperfect, double object pronouns, present perfect tense, past participles as adjectives and present subjunctive. Topics covered include vocabulary in the city, health and well-being, professions and the world of work, restaurants and cooking. Students are required to attend a video conference call with the teacher for one of their unit assignments. This allows teachers to provide students with feedback on their spoken Spanish. Spanish 2 is approved by the University of California A-G as a language other than English (category E).
Upon completion of this course, the student is awarded 5 credits. Each credit corresponds to 15 hours of study. Of course, some students work more quickly than others, and some can devote more hours to study, so some students are able to complete the course in an accelerated rate.
In this module, students gain a comprehension of the following:
The use of vocabulary involving city life, including places, errands and money.
How to talk about how long we have been doing something and how long ago something happened.
How to use present subjunctive with the trigger phrases of will and influence, verbs of emotion, doubt, disbelief and denial.
The use of vocabulary for professions and the work environment.
How to use the future tense regular and irregular verbs.
When to use por and para.
The use of cooking and restaurant vocabulary.
How to use double object pronouns.
How to form the present perfect tense and use past participles as adjectives.
Review the different uses of the two past tenses; the preterite and imperfect.
This course covers the following topics:
City Vocabulary
Hacer with the expression of time.
Nosotros commands.
Present subjunctive and subjunctive with impersonal expressions.
Health and well-being vocabulary.
Subjunctive with verbs of will and influence, emotion, and doubt, disbelief and denial.
Work and Professions Vocabulary
Future tense regular verbs and irregular stems.
Por and para.
Cooking and Restaurant Vocabulary
Double Object Pronouns
Present perfect tense.
Past participles as adjectives.
Review of the imperfect vs preterite.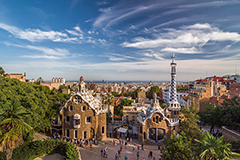 • One Semester Credit: $125
• Second Semester of Spanish 2