Price: $125 | Credits: One Semester | Dept: Languages | Course ID# 251-2
This is the second semester of Spanish 1 and covers the use of the verb gustar, likes and dislikes, irregular verbs, as well as ser vs. estar, direct and indirect object pronouns, plus regular and irregular past tense preterite conjugations. Vocabulary regarding travel and vacation, shopping, daily routines, and food is studied. Students are required to attend a video conference call with the teacher for one of their unit assignments. This allows teachers to provide students with feedback on their spoken Spanish. Spanish 1 is approved by the University of California A-G as a language other than English (category E).
Upon completion of this course, the student is awarded 5 credits. Each credit corresponds to 15 hours of study. Of course, some students work more quickly than others, and some can devote more hours to study, so some students are able to complete the course in an accelerated rate.
In this module, students gain a comprehension of the following:
Vocabulary associated with travel and vacations including seasons and weather expressions.
An introduction of irregular "yo" (I) verbs.
Learn to use estar (to be) for location, to express conditions and emotions and with the present progressive tense, and continue to practice the "to be" verbs, ser and estar.
Vocabulary for shopping, clothing, colors and other adjectives.
Learn the present tense of the verbs saber and conocer (to know).
How to use direct and indirect object pronouns and verbs that are similar to gustar.
Vocabulary for daily routine, personal hygiene and expressions of time.
Learn about reflexive verbs, how to use reflexive pronouns as well as demonstrative adjectives and pronouns.
Learn how to use indefinite and negative words.
Food vocabulary, how to describe food and meals and foods of the Spanish speaking world.
Transition from communicating exclusively in the present tense to the past (preterite) tense with the introduction of the regular verbs endings for AR, ER, and IR verbs, irregular preterite "twin verbs", ser, ir, dar and ver as well as stem changing preterite verbs.
This course covers the following topics:
Los viajes, las vacaciones y el tiempo
Ir de compras
Las rutinas diarias
La comida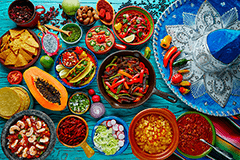 • One Semester Credit: $125
• Second Semester of Spanish 1