Price: $125 | Credits: One Semester | Dept: English | Course ID# 211-1
This course is the equivalent of the first semester of English 11 and includes the topics of irony, analyzing drama, literary criticism, finding the author's point of view, literature, primary source documents, summarizing, assessing mood and tone, choosing valid sources, analyzing the message, assessing the meanings of words, literary devices, figurative language, and poetry. English 11 is approved by the University of California A-G as English (category B).

Upon completion of this course, the student is awarded 5 credits. Each credit corresponds to 15 hours of study. Of course, some students work more quickly than others, and some can devote more hours to study, so some students are able to complete the course in an accelerated rate.
In this module, students gain a comprehension of the following:
Develop a deeper understanding of literature, including the literary devices.
Be able to understand how to use the hyphen, what subject/verb agreement and pronoun case agreement are, and how to detect common errors in writing.
How to evaluate and analyze drama, other forms of literature and informational text, author's choice, and the author's point of view.
How to become a literary critic, how to choose valid sources, and how to cite and paraphrase those sources.
Be able to understand different poetic techniques and figurative language.
To examine organizational techniques, word choice, how to use context clues.
This course covers the following topics:
Irony
Analyzing Drama
Literary Criticism
Grammar Review – Hyphen, Subject/Verb Agreement, Common Errors, Pronoun Case and Agreement
Author's Point of View
Titles and Hooks
Tone and Mood
Analyzing and Evaluating Literature
Summarizing
Context Clues
Word Choice
Poetic Techniques
Figurative Language
Paraphrasing and Quoting
Organizational Techniques
How to Choose a Valid Source
Assigned books: Arthur Miller- "The Crucible", Nathaniel Hawthorne- "The Scarlet Letter", and Stepen Crane- "The Red Badge of Courage"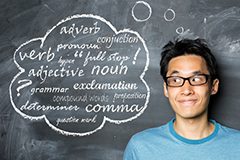 • One Semester Credit: $125
• First Semester of English 11