Price: $125 | Credits: One Semester | Dept: Art | Course ID# 274-2
This course focuses on photo editing and in order to take this course, students need to have access to Adobe Lightroom Classic software running on a PC or Mac. Adobe offers a special student license to Adobe Lightroom Classic which includes Photoshop which is not required for this course but will be referenced in this course.
Using compelling videos and online materials, this photography course is designed to meet the National Core Arts Standards and the California Arts Standards for Visual Arts. Students discover the techniques of modern digital photography, and how to create and present photographic art. They connect visual art to societal, cultural and historical meaning through exploring their own artistic creations, as well as analyzing the impact of iconic photographers from the past.
Where Photography Part 1 deals with capturing the image, this course, Part 2, moves on to photo editing, using the industry-standard Lightroom Classic CC and provides valuable insights into the business of photography. After students have learned how to install Lightroom Classic CC on your PC (or Mac), they learn how to use the key editing tools and developing tools before moving on to cover advanced editing techniques such as combining multiple images.
Adobe Lightroom Classic is Required for this Course
This course covers photo editing in Adobe Lightroom Classic. All students need to buy a subscription to this software.  A discounted student/teacher version is available from Adobe. Note: Make sure you buy Adobe Lightroom Classic, not Adobe Lightroom. The reason is that Adobe Lightroom Classic stores the files on your PC hard drive, whereas Adobe Lightroom stores the photos in the cloud, and uploading/downloading the files can max out your data plan with Adobe. The two versions also operate differently, so it is important, for the purposes of this course you are using the version called "Classic".
Click here to go to Adobe's website where you can find and subscribe to Adobe Lightroom Classic. You will be storing your photos on your PC, not in the cloud, so you will not need more than 20GB of Adobe's cloud storage for this course. 
Credits & Study Hours
Upon completion of this course, the student is awarded 5 credits. Each credit corresponds to 15 hours of study. Of course, some students work more quickly than others, and some can devote more hours to study, so some students are able to complete the course in an accelerated rate.
By taking this course students will:
Learn how to install Lightroom Classic.
Create a catalog of photos, organize workflow.
Appreciated the basic Lightroom functions, presets and generally familiarize themselves with Lightroom Classic CC as an artistic tool.
Develop and refine artistic techniques using the most commonly used tools in Lightroom Classic CC photo editing software such as spot removal, adjustment brush, the tone curve, color manipulation (hue, saturation & lightness), sharpening and noise reduction.
Generate and conceptualize a series of photos, organize and develop them, refine and complete them.
Analyze, select and interpret the photos for presentation to the instructor.
Students perceive and analyze their artwork and interpret intent and meaning.
Learn advanced photo editing techniques including: dramatic landscapes, portrait retouching, architecture, long exposure & light painting.
Generate and conceptualize a series of photos, organize and develop them, refine and complete them. Then they analyze, select and interpret the photos for presentation to the instructor.
Appraise the impact of an artist or a group of artists on the beliefs, values, and behaviors of a society.
Perceive and analyze an iconic architectural image interpreting intent and meaning.
Experiment with, and practice, advanced photographic skills by combining multiple images together.
Demonstrate the acquisition of skills and knowledge in the following techniques: high dynamic range (HDR), panoramas, time lapse, blending multiple images & exposures.
Generate and conceptualize a series of photos, organize and develop them, refine and complete them. Then they analyze, select and interpret the photos for presentation to the instructor.
Explore careers in photography.
Investigate what is involved in starting a photography business.
Gain insights into the business of stock photography.
Get an introduction to copyright law for photographers.
Learn when, why and how to use watermarks and photography contracts.
Interview two professional photographers in different fields of the art.
Learn how these professional artists generate and conceptualize their artistic ideas and work, organize and develop their artistic ideas and work, refine and complete artistic work, elect, analyze, and interpret their photos for presentation, refine artistic techniques and photos for presentation, convey meaning through the presentation of their photographic work, perceive and analyze their photographic work, interpret intent and meaning in their photographic work, apply criteria to evaluate their photographic work, synthesize and relate knowledge and personal experiences to make photographic art

relate their artistic ideas and works with societal, cultural, and historical context to deepen understanding
This course covers the following topics:
Photo Editing Tools: Introduction to Lightroom Classic CC

Developing Tools
Advanced Editing Techniques
Combining Multiple Images
The Business of Photography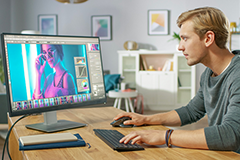 • One Semester Credit: $125
• Second Semester of Photography