Price: $125 | Credits: One Semester | Dept: Art | Course ID# 274-1
Using compelling videos and online materials, this photography course is designed to meet the National Core Arts Standards and the California Arts Standards for Visual Arts. Students discover the techniques of modern digital photography, and how to create and present photographic art. They connect visual art to societal, cultural and historical meaning through exploring their own artistic creations, as well as analyzing the impact of iconic photographers from the past.
This  course covers the essential photographic skills and techniques such as composition and exposure. Students learn about modern digital equipment such as digital cameras, lenses, flash and other forms of lighting. Different artistic styles are explored, such as portraits, still life, landscape, action and street photography.
The course combines analysis of photographs and appreciation of the history of photography with practical assignments where students capture their own images and produce their own creations, with the guidance and support of a credentialed teacher.
Where this course (Part 1) focuses on capturing the image, the subsequent course (Part 2) moves on to cover photo editing. Students need a camera in order to take this course.
Photo editing software is not required for this course–but will be required if students wish to move on to the next course (Part 2). 
Credits & Study Hours
Upon completion of this course, the student is awarded 5 credits. Each credit corresponds to 15 hours of study. Of course, some students work more quickly than others, and some can devote more hours to study, so some students are able to complete the course in an accelerated rate.
By taking this course students will:
Appreciate and recognize some of the most influential photographers and iconic photographs in history.
Learn about the history of photography.
Learn some keys to becoming a better photographer.
Recognize various branches and styles of photography and gain an appreciation of the full scope of the art.
Gain experience with the method of observation and experimentation to produce photographs.
Gain experience of generating photographic art and selecting images for submission.
Appraise the impact of a photographer on the beliefs, values, and behaviors of a society.
Learn how digital and traditional cameras work.
Become familiar with digital camera components such as the sensor, lens, shutter and memory cards.
Appreciate how digital files can be compressed and the effect this has on the quality of the image.
Become familiar with camera modes and settings.
Gain experience of refining and completing artistic work.
Organize and generate artistic work.
Articulate how they can improve their photograph by controlling shutter speed, aperture and/or ISO.
Demonstrate skills and knowledge essential to the photographic art.
Learn useful photo composition skills and techniques.
Learn the importance of the subject in the photo.
Learn how to apply the Rule of Thirds.
Gain an appreciation of framing, lines and symmetry in composition.
Generate artistic work showing application of depth of field and the Rule of Thirds.
Organize a selection of photos by concept and meaning.
Select photos demonstrating composition skills for presentation.
Learn about the essentials of lighting and exposure.
Explore various lighting scenarios including natural light, direct sunlight, light conditions at the golden hour & blue hour.
Learn how use natural light for portraits.
Discover how flash lighting works, both indoors and outdoors.
Apply the lighting skills they have learned to generate photos using various types of light, at different times of day.
Analyze, select, and organize photos for presentation.
Demonstrate a willingness to experiment in the process of making photographic art.
Students explore the following branches of photography:
Still Life Photography
Landscape Photography
Portrait Photography
Action Photography
Street Photography
Night Photography
Macro Photography
This course covers the following topics:
Introduction to Photography
Getting to Know Your Camera & Equipment
Composition
Lighting & Exposure
Branches of Photography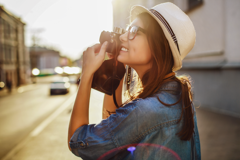 • One Semester Credit: $125
• First Semester of Photography