Price: $95 | Credits: 5 | Department: English | Course ID# 212-2
This course is the equivalent of the second semester of English 12 and includes the topics of sequencing events, diction, editing, analyzing allegories, using dialogue, reading classic literature, revising, analyzing literature, discovering characterization, looking at dystopian literature, assessing word choice, discovering the paradox, receiving some essay writing tips, and using critical thinking skills. ​English 12 is approved by the University of California A-G as English (category B).
Upon completion of this course, the student is awarded 5 credits. Each credit corresponds to 15 hours of study. Of course, some students work more quickly than others, and some can devote more hours to study, so some students are able to complete the course in an accelerated rate.
In this module, students gain a comprehension of the following:
Improve upon their writing skills so that they can produce exceptional expository, persuasive, and personal narrative essays.
Be able to understand how to vary sentences in their writing, be able to understand sentence structure, and how to be consistent with verb tenses.
How to evaluate allegories and paradoxes and be able to create their own using their critical thinking skills.
Be able to analyze dystopian literature and make connections from the text to their own life experiences.
Be able to synthesize literature and develop a persuasive argument regarding the author's choices in the texts.
This course covers the following topics:
Sequence of Events
Diction
The Plot Line
Grammar Review – Sentence Variation, Sentence Structure,
Verb Tense Consistency
Editing and Revising
Allegories
Dialogue
Theme
Author's Style
Analyzing Literature
Author's Choices
Characterization
Dystopian Literature
Literary Techniques
Inferring
Point of View
Word Choice
Paradox
Hyperbole
Essar Writing Tips
Critical Thinking
Assigned books: Charles Dickens- "Great Expectations", Oscar Wilde- "The Happy Prince" "The Selfish Giant' "The Devoted Friend", J.R. Tolkein-"The Fellowship of the Ring", and George Orwell-"1984"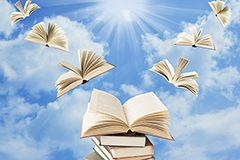 Course Details
5 Credits – $95
Second semester of English 12
Approvals: